Mold Removal Sacramento
If a flood or a leak causes water damage, mold and mildew in your property, business and home owners can rely on the mold removal Sacramento pros at 911 Restoration of Sacramento.
Our mold removal Sacramento experts never want to keep you waiting when you need help dealing with a mold infestation, which is why we stay available 24/7/365 to receive your call and schedule an appointment.
Our mold removal Sacramento specialists guarantee that we will respond to all calls involving mold as quickly as possible. So, if you notice dark patches on your ceiling or smell a musty odor in your attic, you can rely on us to perform the cleanup effort you need.
When our mold removal Sacramento agents arrive on the scene, we will use state of the art cleaning agents, water extraction techniques and drying efforts to implement comprehensive services, such as:
Mold removal remediation
Mold infestation cleanup
Discovery of the source of the mold growth
Mold spore removal
Visual mold inspection
Mildew deodorization
Mold testing services
Fungus and mold decontamination
Comprehensive mold and water extraction
Call our mold removal Sacramento agents today and we will work with IICRC certified professionals to conduct a free visual mold inspection to get the remediation process started.
Mold Is A Common Byproduct Of Water Damage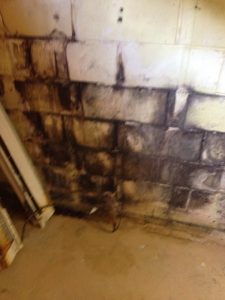 If you have mold and mildew in your home, it is important to know that the substance may be indicative of a larger problem at hand, such as unmitigated water damage.
Mold spores need water to grow, so if you notice signs of it in your property, you most likely have a leak somewhere that is causing the infestation, which might also be creating other damage.
In order to remediate all aspects of the problem, our mold removal Sacramento pros will work quickly and thoroughly to ensure that every trace of mold gets removed from the premises.
Many people don't realize that, along with looking unpleasant, mold and fungi also has the potential to be a health hazard to everyone living in the home. Even though it may not always be seen, you could be inhaling mold spores, which will cause you to experience symptoms that mimic seasonal allergies, as well as cause breathing issues, such as asthma.
So, in order to stay safe and keep your home maintained, call our mold removal Sacramento crew when you even have the slightest suspicion that you may have mold in your living space.
Our Mold Removal Pros Care About Your Well Being Over Everything Else
Our mold removal Sacramento technicians understand that discovering a mold infestation in your home or business can be difficult to cope with, especially if you have never dealt with mold before.
This is why when our mold removal Sacramento experts arrive on the scene, we make sure to assess the entire scene, including tending to your emotional wellbeing.
Our mold removal Sacramento specialists never want our customers to feel alone in the face of a mold disaster, so we always make sure to be your shoulder to lean on throughout the entire process.
We offer around the clock customer service, making it easy for you to call our mold removal Sacramento staff virtually any time to answer any questions you may have about the renovations being made.
Call our mold removal Sacramento workers at 911 Restoration of Sacramento today, and we will do whatever it takes to give you a fresh start after a mold infestation.