Mold Removal in Elk Grove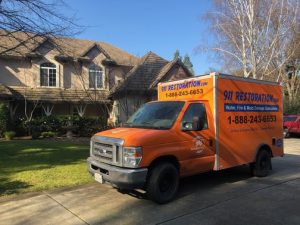 A mold infestation in Elk Grove can leave you dealing with property damage and threats to your health. Fortunately, you can get a Fresh Start in this situation by contacting 911 Restoration of Sacramento right away. Our IICRC certified mold removal crews are standing by to help you 24/7/365. Call us at 916-604-3710 and allow us to provide a free visual inspection. Elk Grove mold decontamination techs can reach your property within 45 minutes of an emergency call to:
Locate Mold with a Mold Inspection

Isolate Infested Areas to Stop Mold from Spreading

Get Rid of Mold Spores with Air Filters

Clean Up Your Property and Your Possessions

Take Care of Complete Odor Removal
Mold cleanup in Elk Grove can return your home or business to better-than-new condition. No job is too big or too small for the mold decontamination experts at 911 Restoration of Sacramento. Techs are licensed, bonded, and insured to handle both commercial and residential mold infestations, so you can count on us to bring your property back into pristine condition.
What Do You Look for in an Elk Grove Mold Remediation Company?
When you have a mold infestation in your home or business, you want mold removal to be completed the right way the first time. You can improve your odds of completely eradicating a mold infestation quickly by contacting mold remediation experts who are:
Licensed, Bonded, and Insured to Handle Mold Cleanup

IICRC Certified to Deal with Mold Decontamination

Experienced and Highly Trained for Mold Abatement

Armed with Cutting-Edge Mold Removal Equipment
The techs at 911 Restoration of Sacramento understand exactly what it takes to complete mold remediation in Elk Grove. Find out exactly how we can help you by contacting us today for a mold inspection.
Based on the results of your Elk Grove mold inspection, crews will develop a personalized mold decontamination plan, designed to give you back your peace of mind while returning your property to perfect condition. Call us at 916-604-3710 and see how we can help.

Will Elk Grove Mold Cleanup Get Rid of Black Mold?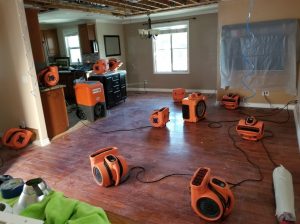 Black mold is a dangerous fungus that can cause severe respiratory issues and other ailments. For this reason, it is very important that you begin mold cleanup right away if you spot black mold in your home or business.
Elk Grove mold removal techs at 911 Restoration of Sacramento have the resources and experience to handle black mold remediation for you. Techs can quarantine areas of your property with black mold. This can stop black mold from spreading further and protect you from black mold spores.
Screws can scrub down all areas exposed to black mold. They may also safely dispose of items infested with black mold. You can get a Fresh Start after a black mold infestation. Just contact us so crews can start black mold decontamination right away. Let us identify spots with black mold and develop a mold remediation plan, starting with a mold inspection in Elk Grove. Call us at 916-604-3710

Servicing the cities of Carmichael, Citrus Heights, Clarksburg, Courtland, El Dorado Hills, Elk Grove, Fair Oaks, Folsom, Herald, Gait, Mather, Orangevale, Pilot Hill, Rancho Cordova, Sacramento, Sloughhouse, Walnut Grove, Wilton… and surrounding areas.