Mold Removal in Manteca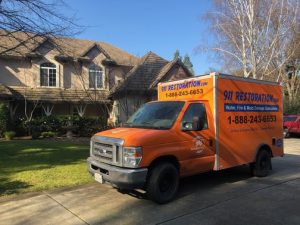 Have you spotted signs of mold growth in your home or business in Manteca? If so, you can get immediate help beginning mold removal by contacting 911 Restoration of Sacramento. IICRC certified mold remediation techs can rush out to your property, arriving within 45 minutes of your emergency call, 24/7/365. Get a Fresh Start by allowing us to:
Check Your Property Over with a Mold Inspection

Take Steps to Stop the Spread of Mold

Remove Mold Already Growing in Your Property

Get Rid of Odors and Unsightly Mold Stains
Manteca mold cleanup techs are trained to handle both commercial and residential mold outbreaks. No mold decontamination job is too big or too small for us. Techs can even develop a personalized mold removal plan for you based on the results of your mold inspection in Manteca.
Here at 911 Restoration of Sacramento, we understand how important it is to begin mold remediation quickly. Protect your property and your wellbeing right away by contacting our property restoration specialists.
How Long Does Manteca Mold Remediation Take?
You want your property returned to mold-free condition as quickly as possible after an infestation. The mold remediation experts at 911 Restoration of Sacramento understand. We can generally complete mold removal in Manteca within 1-to-5 days. 
Mold decontamination may take longer in some circumstances. Mold cleanup techs can assess the extent of your mold infestation and the type of mold you are dealing with during your mold inspection. This can allow us to provide you with a more exact estimate for how much time Manteca mold remediation will require.
Let us go over all of your needs right now with your mold inspection. Our mold decontamination experts understand exactly what it takes to return your property to better-than-new condition, starting right now. Get help from licensed, bonded, and insured professionals to make sure the mold cleanup process goes smoothly.
Does Mold Cleanup in Manteca Use Dangerous Chemicals?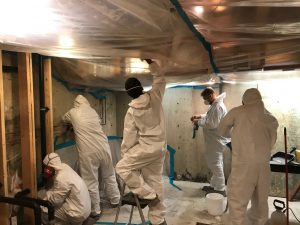 Some types of mold are toxic and may threaten your health if you are exposed to the spores. You may be worried that mold removal could also pose risks to your well-being. Here at 911 Restoration of Sacramento, mold remediation techs only utilize approved cleaning agents when destroying a fungal infestation.
Your health and well-being are important to us. That's also why we isolate areas with mold growth using:
Plastic Sheeting 

Negative Air Pressure Machines

Air Filters
These tools help contain areas of your home or business undergoing mold decontamination in Manteca. Let us keep you safe from mold spores and other hazards associated with a mold outbreak. Techs can identify areas of your property in need of mold cleanup with a mold inspection right now.
Here at 911 Restoration of Sacramento, we can also handle the underlying causes of your mold infestation. Let us take care of flood cleanup, repair leaking pipes, and bring your property back to perfect condition today.
Servicing the cities of Carmichael, Citrus Heights, Clarksburg, Courtland, El Dorado Hills, Elk Grove, Fair Oaks, Folsom, Herald, Gait, Mather, Orangevale, Pilot Hill, Rancho Cordova, Sacramento, Sloughhouse, Walnut Grove, Wilton… and surrounding areas.