Sanitization and Disinfection Services in Sacramento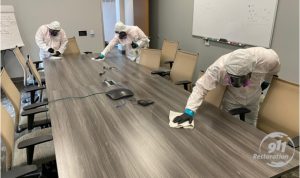 Life will never be the same after the coronavirus pandemic. We at 911 Restoration believe our community in Sacramento will find a way to make this challenge an opportunity for growth in the long term. As a disaster restoration company, we've seen how a nightmare can turn into a Fresh Start with the right approach. But in order to get there, our entire community must band together in the fight against coronavirus spread.
This pandemic poses a very real threat to our community. While many who become infected will survive, others will not. No matter how healthy you are, some of your neighbors are at high risk for serious illness if they are exposed to coronavirus. And it is extremely easy to become exposed.
One significant challenge comes from the fact that a person infected with the virus may not exhibit symptoms for up to 14 days. During this time, they are still contagious. Do not make the mistake of assuming you are virus-free. As challenging as it is, we all must live as though we may be carriers. This includes social distancing, staying at home as much as possible, and observing frequent hygiene and property disinfecting practices. If any members of your household are at risk of severe infection, keep their private space protected. Call us at 916-604-3710 and see how we can help.

If you are a commercial property owner, bear in mind that you have no way of knowing whether your space has been exposed to coronavirus. Between members of your staff and members of the public, you do not know where everyone has been before passing through your property. You also don't know who might be a member of a vulnerable population or who might live with an elderly or ill family member. At this time, both your employees and your patrons look to you to provide peace of mind.
We know this is a great burden to carry. Please know 911 Restoration of Sacramento is always here to help. We provide office deep cleaning, retail store disinfection, and sanitization for any commercial facility in Sacramento and beyond. We also service residential properties to help you find peace of mind within your home. Our disinfection and sanitization teams are trained to follow CDC and EPA protocols. Above all, we provide true compassion and honest communication. Our staff understands that anxiety is high right now. If you own a business, you worry not just about getting through the present times, but also meeting the challenges that lie beyond coronavirus.
We are always here for you. Call 911 Restoration of Sacramento for a little clarity in difficult times. Call us at 916-604-3710