Mold Removal in Stockton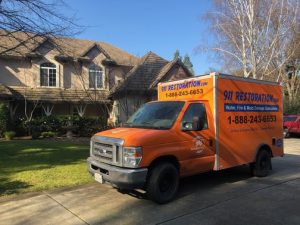 You may need help recovering from a mold infestation in your home or business in Stockton. You can get a Fresh Start by contacting the mold removal experts at 911 Restoration of Sacramento.  Call us at 916-604-3710 and allow us to provide you with a free visual inspection. Our crew of IICRC certified mold remediation experts can reach your property within 45 minutes, 24/7/365. Once techs arrive, they can:
Perform a Free Visual Mold Inspection for Property Owners Only

Determine What Caused Your Mold Infestation

Isolate Areas Exposed to Mold Growth

Pack Out and Store Un-infested Items

Dry and Dehumidify Your Property

Take Care of Mold Decontamination and Odor Removal
Begin mold cleanup in Stockton with same-day service from 911 Restoration of Sacramento. All Stockton mold decontamination techs are licensed, bonded, and insured to handle your unique needs. Techs can go over your situation with a mold inspection in Stockton. Let us work aggressively to get rid of any evidence that you ever experienced a mold infestation in your home or business. Call us at 916-604-3710 and see how we can help.

Are There Mold Remediation Specialists Near You?
Many property owners understandably want to begin Stockton mold remediation as quickly as possible After all, mold can continue to spread until mold cleanup is completed. You can get fast help by reaching out to a local mold remediation specialist with 911 Restoration of Stockton.
Our mold removal crews can reach properties around Stockton in under an hour from the time of your emergency call. Techs can arrive prepared to begin mold decontamination in Stockton with:
Plastic Sheeting and Negative Air Pressure Machines to Isolate Mold

Personal Protective Gear to Handle Mold Removal Safely

Air Filters to Get Rid of Mold Spores

Specialized Cleaners for Mold Decontamination
Techs can even perform a final mold inspection after they've taken care of your mold outbreak. This inspection can ensure that all traces of mold and mold odors have been removed your property, allowing you to get back your peace of mind. Call us at 916-604-3710.

Can You Get Black Mold Cleanup in Stockton?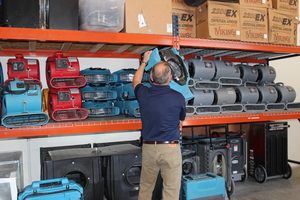 All forms of mold can cause destruction in your home or business. Mold can damage drywall, flooring, cabinets, and your possessions. Toxic molds – like black mold – can also cause serious health problems if you are exposed to their spores. Fortunately, 911 Restoration of Sacramento can take care of black mold cleanup in Stockton.
We have the safety equipment to handle black mold removal. Our techs can also isolate areas of your property with black mold growth to protect your wellbeing during the mold remediation process. Techs can scrub down and disinfect any surfaces exposed to black mold growth.
Working with a professional property restoration company can also ensure that the underlying causes of your mold infestation are properly addressed. Stockton mold remediation techs at 911 Restoration of Sacramento can assess the root cause of a mold infestation during your mold inspection in Stockton. Then crews can take care of mold cleanup and water damage restoration for you. Call us at 916-604-3710

Servicing the cities of Carmichael, Citrus Heights, Clarksburg, Courtland, El Dorado Hills, Elk Grove, Fair Oaks, Folsom, Herald, Gait, Mather, Orangevale, Pilot Hill, Rancho Cordova, Sacramento, Sloughhouse, Walnut Grove, Wilton… and surrounding areas.