Water Damage in Sacramento
Weather Alert: If you are experiencing weather-related damage from the storm, call us today for emergency assistance!
911 Restoration of Sacramento
If you ever have any trouble with a water disaster affecting your property, you can turn to the water damage Sacramento agents at 911 Restoration and you will get assistance at your door within 45 minutes.

Our water damage Sacramento team always wants to make sure that you are taken care of, so we keep our office agents available 24/7/365 to take your call, guaranteeing that you will get around the clock help. Call us at (916) 604-3710 and allow us to offer you a free visual inspection.
When it comes to all water disasters, our water damage Sacramento workers implement same day services as soon as we arrive on the scene of the emergency. This is to prevent any further damage to your home and possessions.
Our water damage Sacramento agents will work with IICRC certified technicians who are licensed, bonded and insured to help you with whatever home restoration services you may need.
At 911 Restoration of Sacramento, we offer a Fresh Start with our comprehensive selection of property damage restoration services, including but not limited to:
Remediation of all water damage
Black water cleanup
Fungi and mold infestation decontamination
Mildew deodorization
Deodorization services
Water extraction and drying
Toilet overflow sanitization
Mold spore testing services
Cleanup of tar and ash residue
Smoke stain cleanup and odor removal
Overall comprehensive disaster restoration
Whether you're a Sacramento homeowner or business owner, 911 Restoration of Sacramento is your Fresh Start! We'll communicate with you throughout the entire process, help answer questions related to insurance, and restore your property to its pre-damaged condition. One of our IICRC-certified teams is dispatched within 45 minutes of your call! Contact us today, and one of our friendly representatives will assist you in finding the nearest Sacramento location.
B M
Justin K came out to my property the same day I made the phone call and was very accommodating with my scheduling. Out of the few contractors I met in searching of a company with some expertise, Justin was the most helpful. He could have offered me unnecessary and costly services (Like other companies), but was honest and straightforward. I will be a returning customer.
Water Damage Restoration
When the rainy season begins, it is really important that your roof is in optimal condition to take the beating that multiple storms will deliver.
Getting it inspected annually before the rain begins, will increasingly prevent any cracking, damaged or loose shingles, and any other issues from allowing 911 water restoration to seep into your property.
If you hire our water damage restoration Sacramento specialists we will inspect your roof, make any necessary repairs and remediate any water damage that has taken place on the exterior or interior of the home. Call us at (916) 604-3710 and see how we can help.
Keeping you safe is the main priority of our water damage restoration Sacramento team, and you can be sure that when you work with us, you will be getting the highest quality restoration work in the industry.
We are qualified to handle even the most intense jobs. So, call our water damage restoration Sacramento technicians today, and we will get your home or business fixed up in no time.
Service area map
Sanitization Services & Disinfection Solutions
The coronavirus pandemic is a major concern for everyone in Sacramento. Coronavirus has spread quickly through the U.S. We see new cases emerging every day, as the virus is very contagious. Slowing the pandemic will require everyone to do their part. You can help protect our community by remaining isolated. Additionally, sanitizing your property may help you get back some peace of mind. Water-damaged properties in Sacramento should always be inspected for mold, as well.  
911 Restoration of Sacramento offers you fast help with sanitization and disinfection. You can contact us around the clock to speak to sanitization techs about possible disinfection solutions. We provide sanitization services for business owners as well as residential property owners. You can get help and support handling the coronavirus by reaching out to us. As a locally owned and operated company, we will put you first as we focus on cleaning and sanitization in Sacramento.
Mold Removal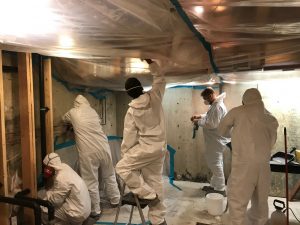 With so many years in the mold and mildew cleanup field, our mold removal Sacramento experts know that it is necessary to implement a fast plan of action when dealing with an infestation.
If there is any water damage present and it sits for too long on any of the surfaces in your property, especially those that are out of time, such as in the wall, crawlspace, or attic, then it can begin to create mold 911 growth.
Mold spores only need 24 hours to begin infesting a home or business, so when we arrive on the scene, our mold removal Sacramento technicians use our top-of-the-line gear to begin extracting water, dehumidifying the affected room, and cleaning any traces of mold and mildew odor.
Our mold removal Sacramento pros are trained to the utmost degree to assist you with all your water damage and mold cleanup needs, so call us today at (916) 604-3710!
Sewage Backup Restoration
Gray water comes from sinks, bathtubs, and showers, while black water overflows from toilets and out of septic tanks. Blackwater is especially dangerous. It contains toxic elements that can be harmful to your health. Do not try to mitigate a sewage spill or backup. 911 Restoration will handle your diaster with care. Our IICRC-certified professionals wear protective equipment to keep everyone's safety forefront.
If you experience an invasion of any type of these water damage categories it is important to keep away from the affected area and immediately call our Sacramento professionals.
Our sewage cleanup sacramento cleanup Sacramento agents have the equipment needed to successfully and safely disinfect your property, as well as repair all the damages created.
So, call our sewage backup cleanup Sacramento experts when you find yourself dealing with gray or black water. We will decontaminate your property in no time with a Fresh Start!
Fire Damage Remediation
When a fire damages your business or living space the first thing your should do is call the fire department.
Your safety is of the utmost importance in any situation involving fire or smoke, so once the fire department leaves the premises, you should call our fire damage restoration Sacramento experts.
Once our fire damage restoration Sacramento team arrives on the scene, we will begin remediation efforts immediately.  We'll remove smoke stains and odor, ash, soot, and any water damage that was created by the Sacramento fire department. Our Sacramento experts will mitigate any water damage and inspect the entire property for mold. If left uninspected, mold will start growing in less than 24 hours.
Call our fire damage sacramento ca Sacramento specialists as soon as the flames have been extinguished. We will begin the remediation process right away. Call us at (916) 604-3710.
Disaster Restoration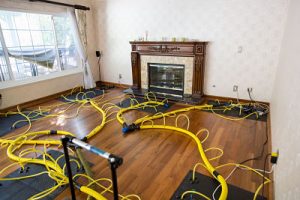 We want you to think of our disaster restoration Sacramento crew as your one-stop-shop for everything. Call our experts if you need to get your home or business back up and running again.
In order to get your property clean and dry quickly our disaster restoration, Sacramento uses professional-grade equipment. This allows us to remediate every type of disaster, such as flooding, grease fires, mold infestations, and sewage overflows.
On top of cleaning your entire property, our disaster restoration Sacramento experts will repair all the damage. They will stop the issue right at the source, ensuring that the incident does not happen again.
Our disaster restoration Sacramento specialists know all the residual effects that can occur once a disaster has occurred. For that reason, we always inspect the entire premises to catch everything, such as structural damage.
With so much experience in the field, our workers know how to efficiently repair any property. Call our disaster restoration Sacramento agents today and we will give you the fresh start you deserve!
Serving the communities of Sacramento, Citrus Heights, Folsom, Rancho Cordova, Elk Grove, Wilton and surrounding area.