Water Damage Restoration and Mold Removal in Rancho Cordova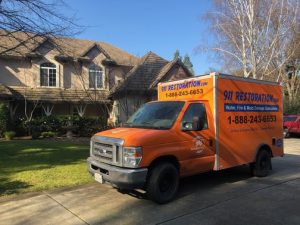 Take immediate steps to deal with home flooding, business flooding, or a pipe burst in Rancho Cordova by contacting 911 Restoration of Sacramento. Call us at 916-604-3710 and allow us to provide you with a free vision inspection. Our IICRC certified Rancho Cordova water damage restoration and mold cleanup crews are standing by to take your call 24/7/365. Secure a Fresh Start by reaching out to us for help with:
Immediate Water Extraction

Sewage Water Cleanup

Repairs for Leaking or Burst Pipes

Flooding in Your Basement or Crawlspace

Leaks in Your Walls or Ceilings

Carpet Water Damage

Mold Infestations 
Rancho Cordova flood cleanup and mold remediation techs can begin working for you right away. Techs can complete a water damage and mold inspection to assess your unique needs after a pipe burst or flood. Here at 911 Restoration of Sacramento, water damage restoration and mold decontamination techs will personalize your property restoration plan.
Getting professional help right away can limit the total damage to your property, reduce total costs, and keep property repair times short. Find out more by contacting us now to start water damage restoration and mold remediation in Rancho Cordova. Call us at 916-604-3710 and see how we can help.

What Happens During Flood Cleanup in Rancho Cordova?
You may be wondering what to expect from the flood cleanup and mold removal process in Rancho Cordova. Techs at 911 Restoration of Sacramento can adjust their services to meet your needs based on the results of your water damage and mold inspection. However, the following services are commonly needed to fully repair and restore properties:
Prompt Water Extraction and Total Dehumidification

Repairs for Damage Caused by Rising Water

Cleanup and Odor Removal

Mold Decontamination
Mold removal techs may need to pack out and store your belongings for safekeeping as they handle water damage repairs and mold remediation. This can protect your belongings from experiencing additional damage caused by a flood or a pipe burst. We can also take care of emergency boarding up and roof repairs to stop additional water from entering your property.
Will Rancho Cordova Mold Remediation Get Rid of Black Mold?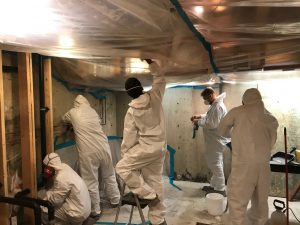 Black mold is often a major concern for property owners after a flood or pipe burst. This kind of toxic mold can grow quickly in damp and dark places, like a flooded basement. Fortunately, mold remediation experts can get rid of black mold for you, starting right now.
We can begin black mold removal quickly if this mold is identified during your mold inspection in Rancho Cordova. Mold decontamination techs can:
Isolate Areas with Black Mold Growth

Set Up Air Filters to Remove Black Mold Spores

Scrub Down All Surfaces Exposed to Black Mold

Perform a Final Mold Inspection to Ensure Black Mold is Gone
Handling mold removal and water damage restoration in Rancho Cordova at the same time can ensure your property is quickly brought back to better-than-new condition. Get a Fresh Start by letting us take care of all aspects of flood cleanup and mold decontamination in Rancho Cordova. Call us at 916-604-3710

Servicing the cities of Carmichael, Citrus Heights, Clarksburg, Courtland, El Dorado Hills, Elk Grove, Fair Oaks, Folsom, Herald, Gait, Mather, Orangevale, Pilot Hill, Rancho Cordova, Sacramento, Sloughhouse, Walnut Grove, Wilton… and surrounding areas.