Water Damage and Mold Removal in Sacramento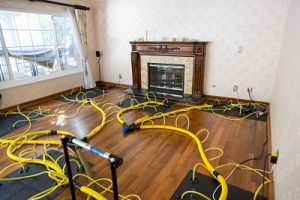 You don't have to deal with a flood, sewage backup, or pipe burst in Sacramento on your own. You can get professional, same-day help with water damage restoration and mold removal by contacting 911 Restoration of Sacramento right now. Call us at 916-604-3710 and allow us to provide you with a free visual inspection. IICRC certified flood cleanup techs are on-call 24/7/365. Get a Fresh Start by letting us:
Rush Out to Your Property Within 45 Minutes of Your Call

Complete a Water Damage and Mold Inspection

Perform Emergency Water Extraction and Roof Repairs

Pack Out and Store Your Undamaged Belongings

Repair Structural Damage Caused by Flood Waters

Handle Comprehensive Mold Decontamination
All water damage restoration and mold remediation crews at 911 Restoration of Sacramento are licensed, bonded, and insured to handle property repairs. Techs will put your peace of mind first as they help you recover from a flood, pipe burst, or plumbing emergency. We can even take care of mold decontamination in Sacramento for you. Call us at 916-604-3710 and see how we can help.

How Quickly Should You Begin Flood Cleanup in Sacramento?
You should start flood cleanup as quickly as possible after a flood or a pipe burst. Waiting to start water damage restoration in Sacramento can lead to increased damage to your home or property. That's why the water damage cleanup techs at 911 Restoration of Sacramento offer same-day:
Water Extraction

Dehumidification Services

Carpet Drying

Crawl Space Cleanup

Flood Damage Repairs
Water damage restoration techs can also perform a mold inspection in Sacramento after a pipe burst, flood, or sewage backup. Mold can grow quickly in damp areas, so you may need help with mold removal alongside flood cleanup.
Highly trained property restoration techs can deal with mold remediation, water cleanup, and odor removal for your home or business. Let us return your property to better-than-new condition with total mold decontamination and flood cleanup services. Call us at 916-604-3710.
When Do You Need Mold Remediation in Sacramento?
Many water damage events, including pipe bursts, can increase your odds of experiencing a mold outbreak. However, mold may not always spread, especially if you begin water damage restoration in Sacramento quickly. You may only discover that you need mold remediation if:
You Notice Strange Odors Without a Clear Source

You Spot Discoloration on Your Walls or Possessions

Mold Removal Techs Spot Fungus with a Mold Inspection
If you do need help with mold remediation in Sacramento, we are standing by to take charge of the situation. Mold remediation can start right away, preventing mold from continuing to spread through your property. Mold decontamination techniques can even erase mold odors from your home or business.
Erase all signs that you ever experienced a water damage emergency or a mold outbreak by contacting us now to begin water damage restoration and mold removal in Sacramento. Techs can get started with a water damage and mold inspection. We won't consider the job done until your property is returned to perfect condition. Call us at 916-604-3710

Servicing the cities of Carmichael, Citrus Heights, Clarksburg, Courtland, El Dorado Hills, Elk Grove, Fair Oaks, Folsom, Herald, Gait, Mather, Orangevale, Pilot Hill, Rancho Cordova, Sacramento, Sloughhouse, Walnut Grove, Wilton… and surrounding areas.